Are you looking to nurture your faith with a group of caring women who support and celebrate each other and the church community, learn and grow together through Bible studies, and serve the Lord through supporting many local, national and international ministries?
Come to the next Presbyterian Women Circle meeting!
Our purpose: Forgiven and freed by God in Jesus Christ, and empowered by the Holy Spirit, we commit ourselves:
To nurture our faith through prayer and Bible study,
Support the mission of the church worldwide,
Work for justice and peace, and
Build an inclusive, caring community of women that strengthens the Presbyterian Church (USA) and witnesses to the promise of God's kingdom
Circles monthly from September to May for Bible study, to learn about the work of local and international missions, and for fellowship and fun! Mission work is paramount, so the year is filled with activities and fundraisers held for our church family and community.
Here are just a few of the ways that PW actively serves our church and our community:
Organizes the Blanket Sunday collection
Hosts and provides food for Heritage Days
Serves funeral and Lenten luncheons at FPCS
Hosts Sewing Days and prepares projects for handcrafted items
Sorts, packs, and distributes these items after Ingathering Sunday
Collects personal care items for Water Street Rescue Mission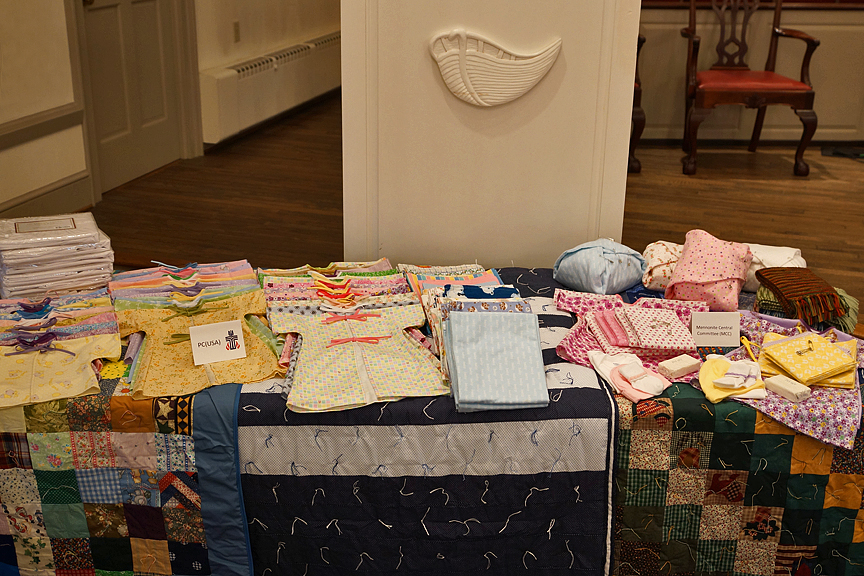 Who can join Presbyterian Women?
ALL women of the church are already considered members of Presbyterian Women of Strasburg, which is part of Presbyterian Women in the Presbyterian Church (USA), Inc!
We encourage you to become an active Circle member—circles are small groups that meet for study, fellowship and service. Our current circles are listed below. Even if you don't join a circle, please come to our monthly gatherings and activities—women of all ages are welcome!
Deborah Circle: 4th Monday, 7:00 p.m.
Martha Circle: 3rd Tuesday, 7:30 p.m.
Mary Circle: 4th Monday, 7:00 p.m.
Ruth Circle: 2nd Monday, 7:00 p.m.
Sarah Circle: 3rd Wednesday, 9:15 a.m.