SUNDAY MORNING WORSHIP SERVICES

8:30 a.m. – Traditional Worship Service
9:30 a.m. – Refreshment Fellowship in Fellowship Hall
10:00 a.m. – Sunday School for all ages
11:00 a.m. – Come as You Are Contemporary Worship Service,/p>
Visit the Sermon Library to explore previous services.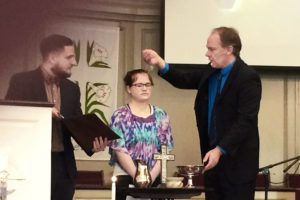 Worship at First Presbyterian Church of Strasburg blends the old and the new. Worshipers will experience ancient and modern hymns of the faith, along with newer contemporary songs and praise choruses. The order of our worship is traditional, though the content may include dramatic readings, and special presentations during the various seasons of the Christian calendar. We strive to make your experiences as comfortable as possible. Our church is wheelchair accessible and the sanctuary is equipped for the hearing impaired. Nursery Care is also available during both services.
At First Presbyterian, we strive to provide worship that:
Communicates clearly the Good News of God's love in Jesus Christ,

Invites worshipers to participate in praising and glorifying God,

Is flexible, always responding to the movement of God's Spirit in our midst,

Calls people to respond to God with lives of grateful discipleship.

All are Welcome - Join with us to Worship and Glorify our Lord and Savior!
Share fellowship with the Body of Christ