Events Archive
---
Advent Events
Advent Events - December 2-24
---
Church Officers Retreat 2013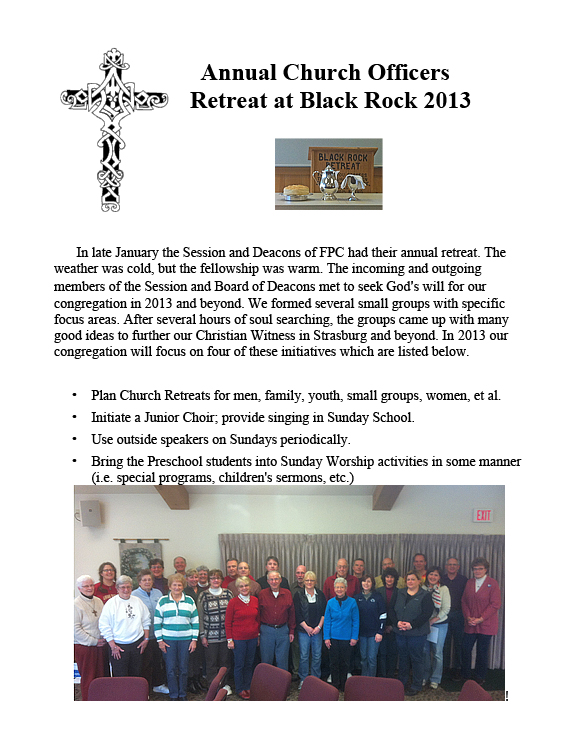 ---
180th Birthday Party - November 11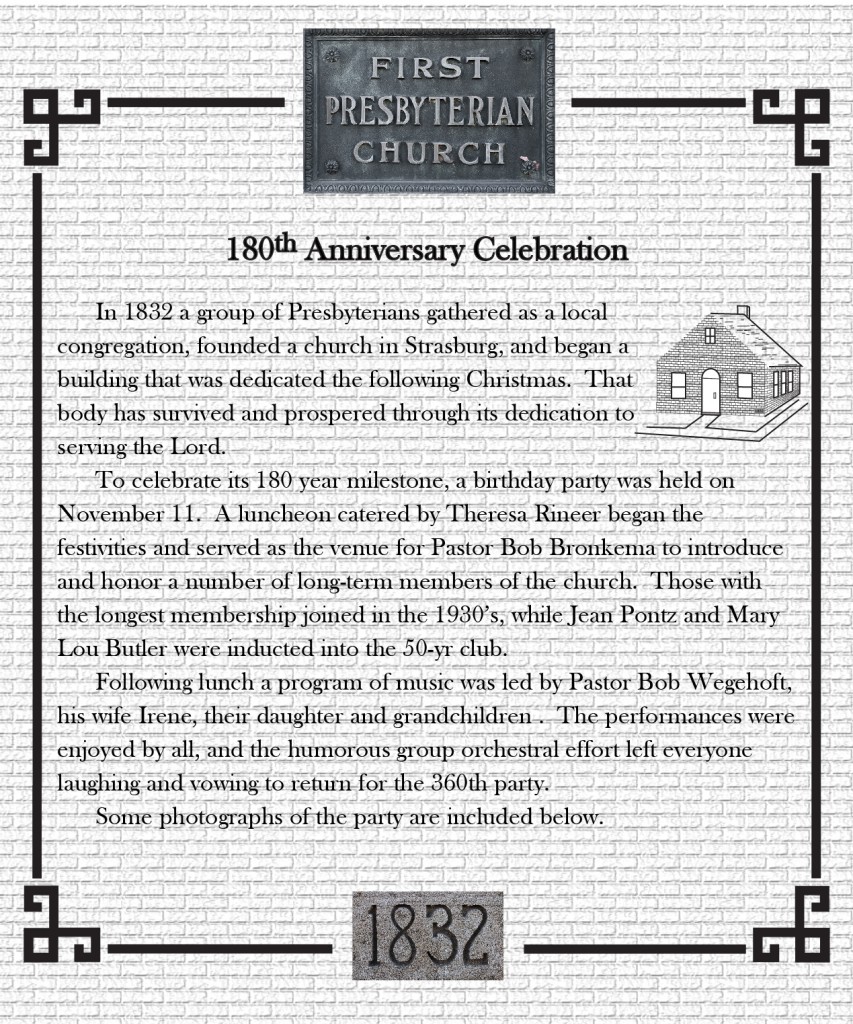 ---
Operation Christmas Child

Lawn Chair Hymn Sing
On August 8th 2012 FPC Strasburg had our 7th Annual Lawn Chair Hymn Sing. We were blessed with good weather, and about one hundred people came from near and far. The Rev. Bob and Irene Wegehoft accompanied the singing on Wesley UMC's Yamaha, with Doug Withers from St. Michael's Lutheran leading the songs. We sang many of the old hymns from a special song booklet prepared by the Worship Committee. In addition to group singing we were treated to special music and a reading. Irene, her daughter Lisa and grandchildren Abby, Haley, Ella and Zachary Swartz blessed us with several songs. We heard solos from Doug, Kathy Skewis on clarinet and our own Holly Miller. Charlie Lefever did a reading that encouraged us to "Lighten Up" and enjoy life at whatever stage we are in. The Rev. Bob Wegehoft shared with us several "stories" and then "just one more" little story. The crowd loved it.
After a delightful evening of music and song, we moved into Fellowship Hall for ice cream, pretzels and friendship. Many thanks to Ken Neumann and Charlie Lefever for technical support; the sound system worked perfectly.
SEE YOU ALL NEXT YEAR!
---
Reports from Moscow and The Shack - July 29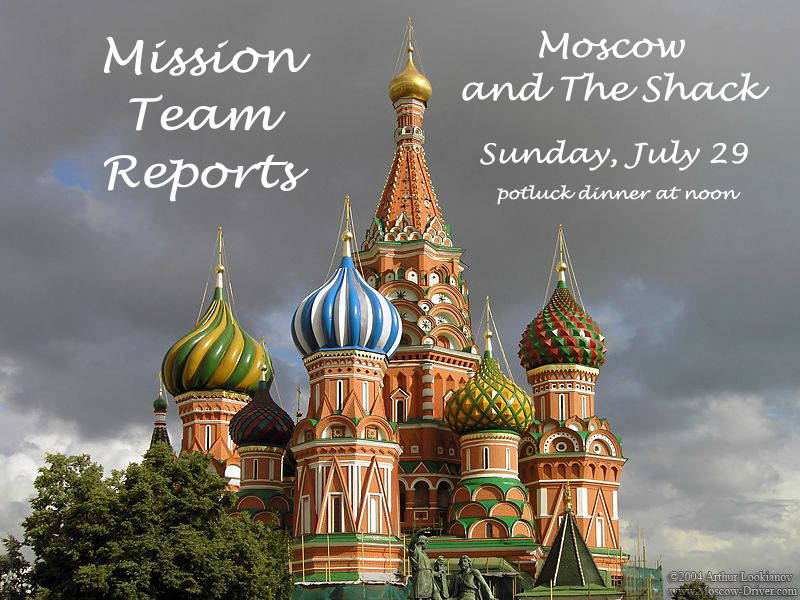 The Shack Presbyterian Mission
Our church has been involved with "The Shack" regularly for over 14 years.  For those who want to know more about "The Shack" here is their website: http://www.the-shack.org/.  "The Shack" ministry started in 1928 to help the mostly coal miner population outside Morgantown, West Virginia.  It is a community center that has many functions serving the community and in the summer serves as a day camp for children.  Over the years that I have been attending what has impressed me was watching the children being served through the ministry grow up and become volunteers helping serve the younger children.
Our church volunteers at "The Shack" by doing community projects that can include anything from yard clean-up, to painting, to repairing anything that need fixed which can include roofs, plumbing, electrical and other small construction projects.  The last several years our church has served "The Shack" facility by building and repairing whatever needs done on the premises of "The Shack".  We feel that helping improve "The Shack" facility helps the entire community being served by "The Shack".
Coming down to serve the community and this ministry is an awesome event.  I love going as the FPC family and getting closer to the people attending with me.  We might start the week as strangers who attend the same church and leave close friends who has witnessed God's work in action.
---
Graduates Reception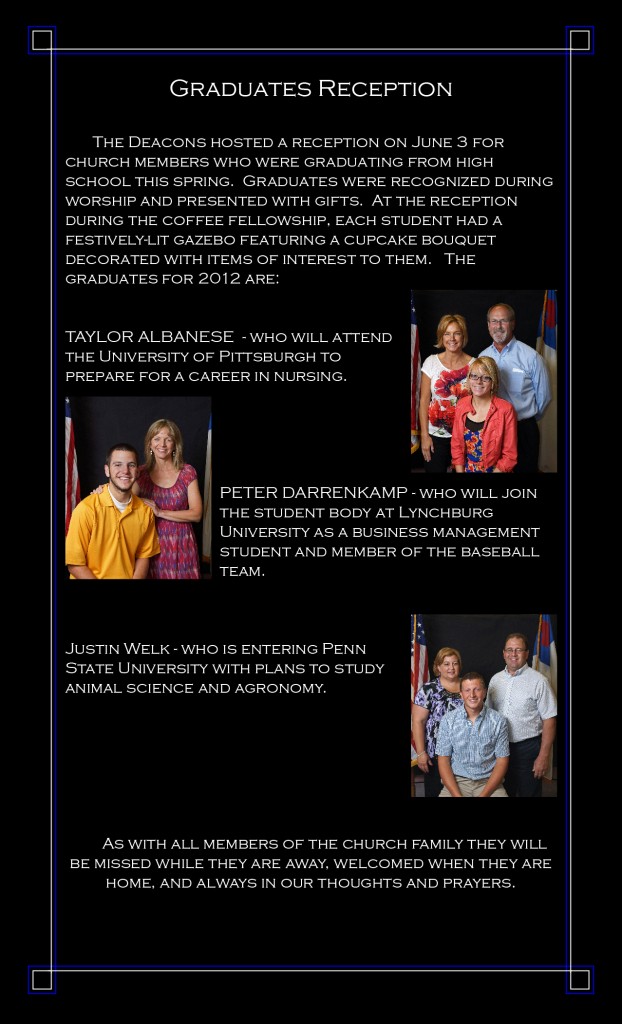 Retirement Reception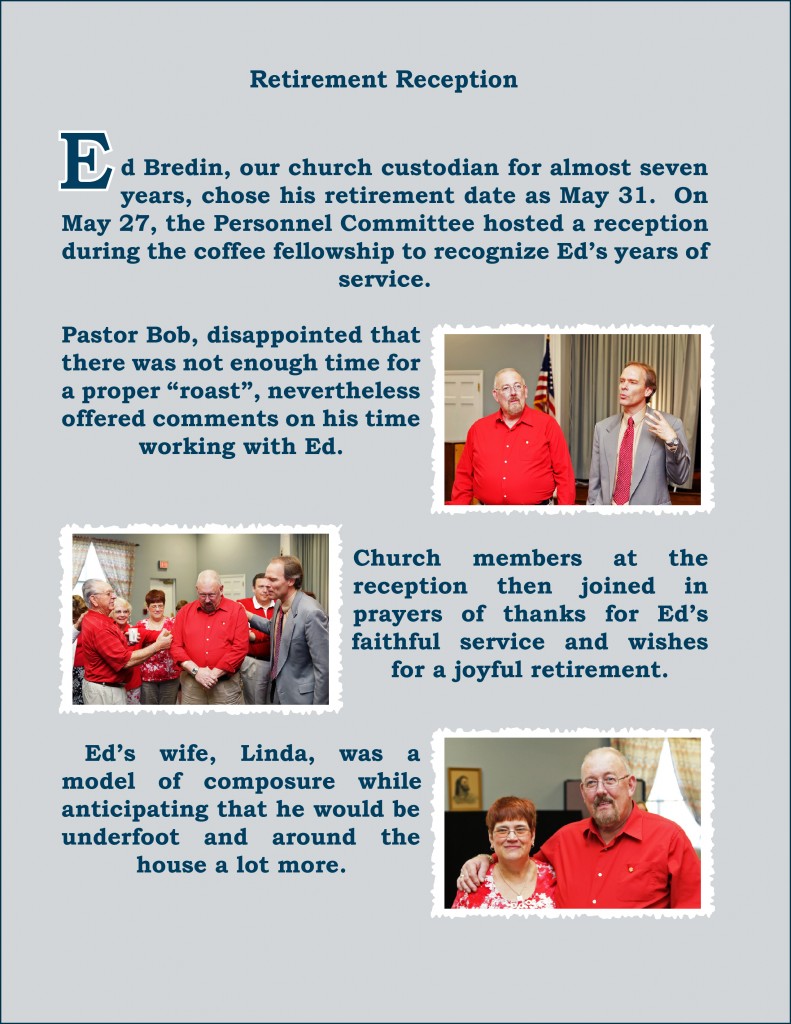 ---
Memorial Day Cookout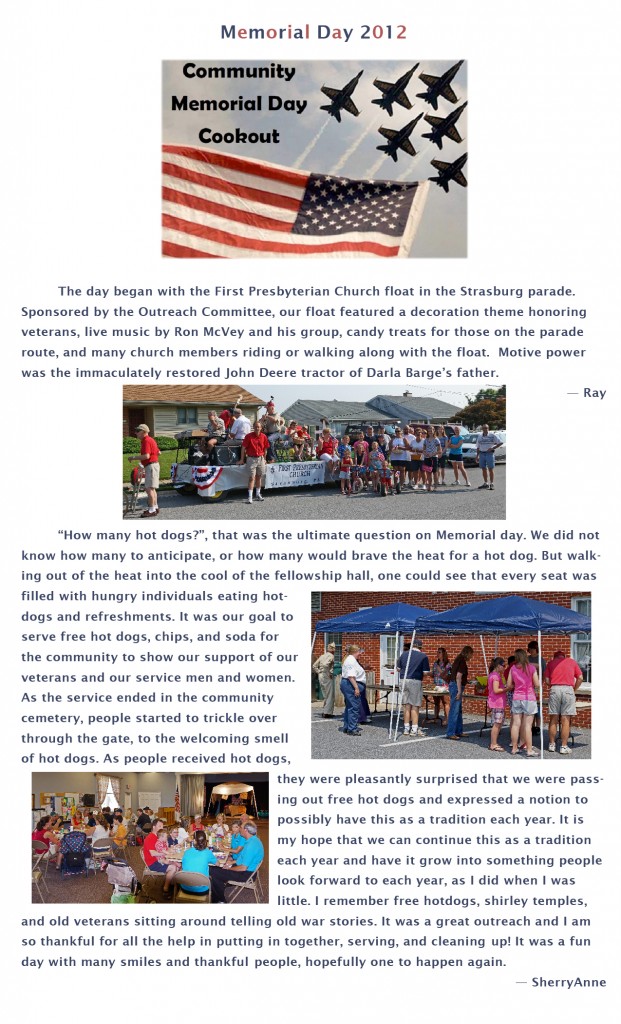 ---
Terri Roberts
---
Barnstormers Game - May 20
---
Financial Peace University
STARTING FEBRUARY 19 thru MAY 13 , DAVE RAMSEY's "FINANCIAL PEACE UNIVERSITY" WAS HELD AT OUR CHURCH. Click Link Below For Enrollment Information: Dave Ramsey's Financial Peace University Course Information for FPC Strasburg

---
From An Article in The January 19, 2012 Edition of The "STRASBURG WEEKLY NEWS"
Church Offers Financial Ministry to Public: Financial Peace Comes to Strasburg
What would your life look like if you had no debt and were really in control of your money? That may be hard to envision in today's difficult economic times, but that is the question asked by Dave Ramsey's Financial Peace University, which will be coming to Strasburg, under the sponsorship of First Presbyterian Church and the leadership of Financial Peace Coordinator Steve Echternach. On Sunday, February 5, at noon, and Tuesday February 7 at 7pm in the Parlor, a preview of the class will be offered to the community for all those who would like to see what is offered. Financial Peace University will then begin in rooms 3 and 4 of the church from 3 to 5 p.m. on Sunday, February 19, and will continue on Sunday afternoons for thirteen weeks. The class teaches a monthly spending plan, ways to stay out of debt for good, explores setting financial goals and communicating about money. It is anticipated the class Will be life-changing by focusing on getting control of your money, by helping you to stop struggling to make ends meet, by showing you how to tell your money what to do, and by changing your family's future - learn how a good money plan can strengthen your marriage and unlock the power of giving to change a community. A trained counselor/coach, Echternach attended the Dave Ramsey counselor school in Tennessee as a ministry of First Presbyterian church. "Having served as a police officer for twenty-nine years, I have seen a lot of domestic-related issues and financial struggling, particularly in light of the current economy, and I see this as an opportunity to give back to the community in an area that I see as a weakness." "This is common sense awareness," says Echternach. "People don't live within their means. This class is not just intended for those who are in financial debt, but for anybody who wants to take a fresh look at how they want to do their finances." The class is for those in trouble, but also for those who may not be in trouble financially, but struggling, and for anyone who wants to Improve or tune up their financial awareness. There is a twist to this class, however; it is not the typical financial information with which we are bombarded by the media and by financial gurus; the twist is that this is finance covered by a Christian biblically-based concept. "Imagine what the people of God could do for the kingdom of God if the people of God were debt-free," says Ramsey, a personal money management expert, national radio personality and author of the New York Times best-sellers,
The Total Money Makeover, Financial Peace and More Than Enough.
By age 26 he had established a $4 million real estate portfolio, only to lose it by age 30. He has since rebuilt his financial life and now devotes himself full-time to helping ordinary people understand the forces behind their financial distress and how to set things right--financially, emotionally and spiritually. The thirteen-week
Financial Peace University
class is offered at $93 per family unit and includes a workbook audio CD library, Ramsey's best-selling book
Financial Peace
, budgeting forms, cash management envelope system, debit card holders and other helpful tools. More information regarding Financial Peace University is available at daveramsey.com. In addition to the thirteen- week class, individual counseling is available as a ministry through First Presbyterian Church. The Financial Peace class is for anyone, but you may also make arrangements for individual counseling by a Dave Ramsey-trained counselor. If you have questions regarding the class or would like to make arrangements for individual counseling, contact the church office at 687-6030. If you have too much month left at the end of the money, Financial Peace University may be the answer to understanding how to get out of debt, stay out of debt and build for your future.
Local Mission Day
On April 28, approximately 50 - 60 church members and friends joined the Trustees on a beautiful morning for landscape and maintenance work on all of the church properties.  High on the priority list was dressing the many planted beds with mulch.  New plantings added to the bright Spring look.  Another major project was scraping, prepping, and painting windows, trim, and gutters at 119 South Decatur Street.  Yet another task was the thorough cleaning of the house at 6 Funk Street, just a day after the closing settlement on that property.  With the large turn out, the work went quickly, and it was soon time to gather for a traditional Presbyterian ceremony, lunch.
---
Community Easter Egg Hunt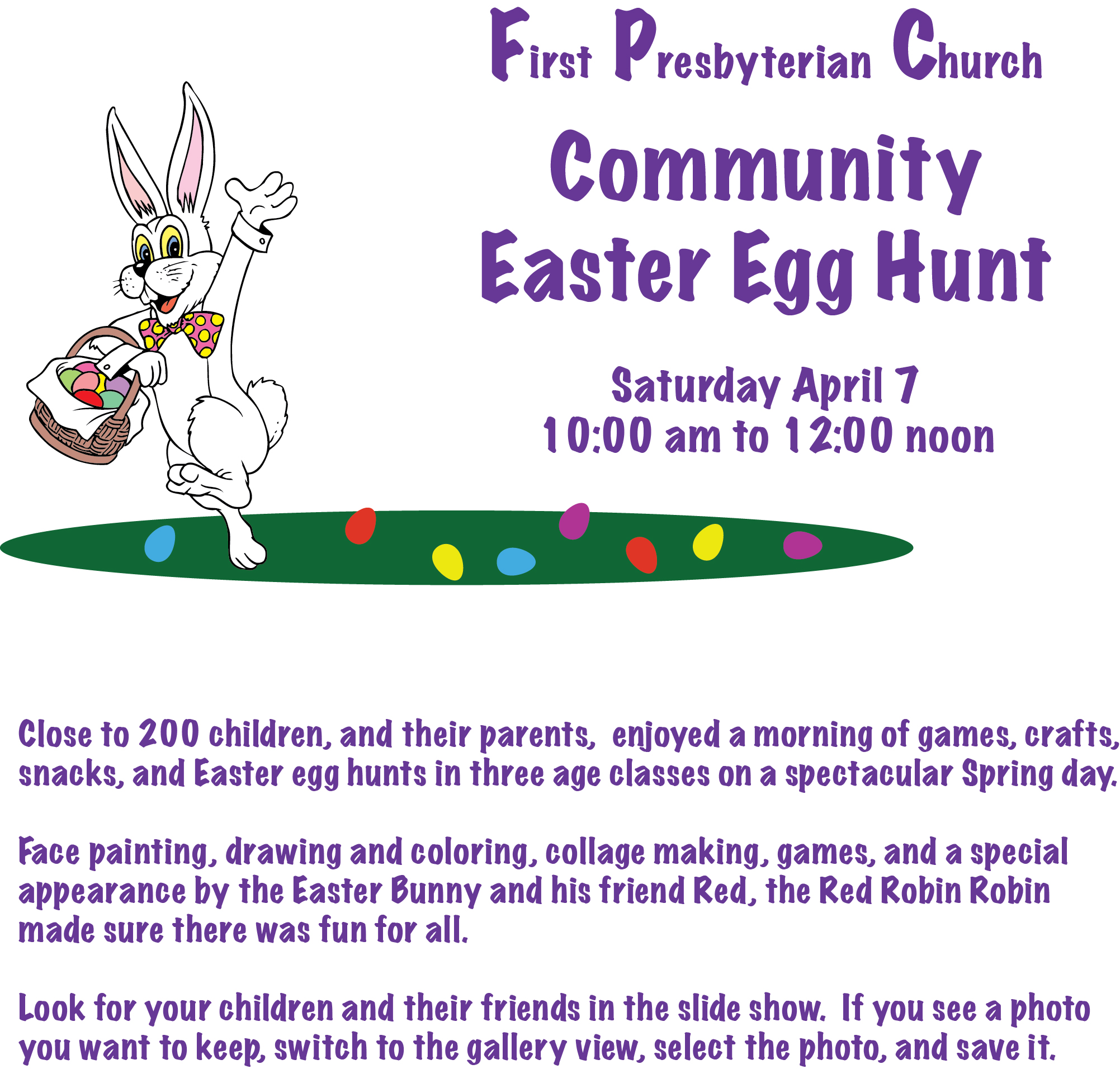 ---
The Otterbein University Concert Choir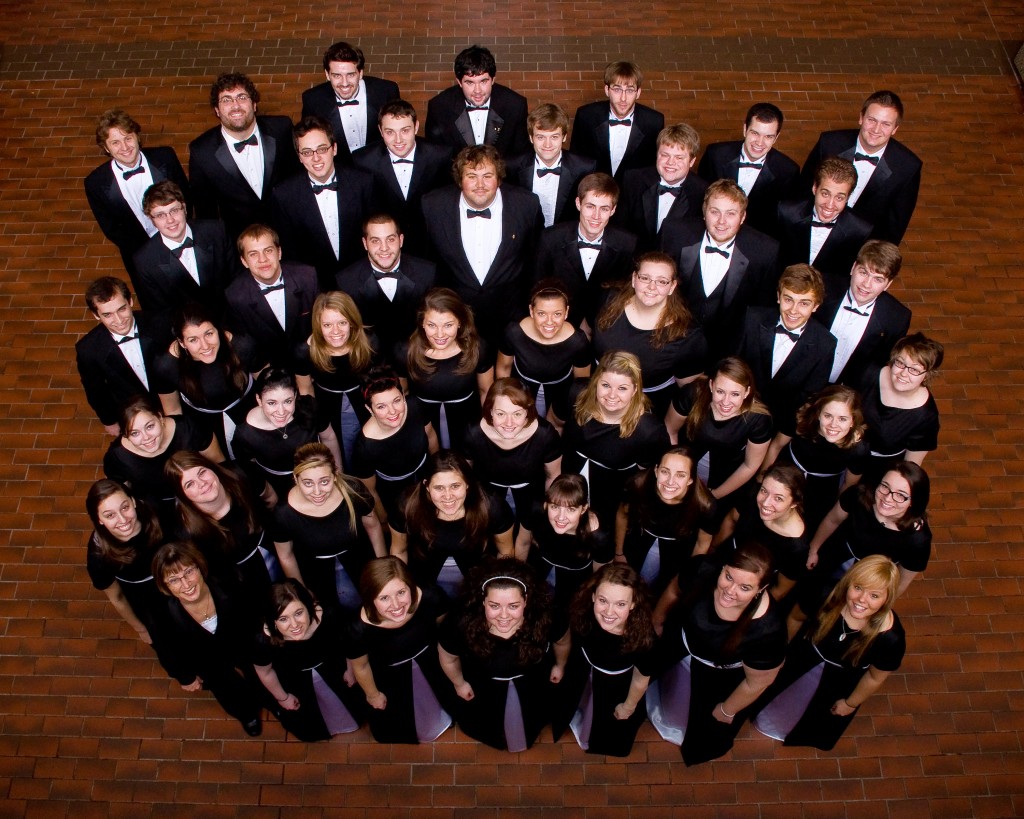 On Sunday evening, March 11, First Presbyterian and the Strasburg community enjoyed the Concert Choir of Otterbein University as they sang a broad selection of compositions from the choral repertoir.  The 52 voices under the direction of Dr. Gayle Walker that compose this most select of Otterbein's vocal ensembles displayed excellent balance, dynamic range, and finely honed musicianship.
      Arriving Sunday afternoon, choir members had time to enjoy a supper at the church and change into concert dress for the 7:00 performance.  The program, which featured the voices of several outstanding soloists, concluded with a surprising encore.  The choir encircled the audience, joined hands, and sang a superbly crafted version of the Otterbein Alma Mater.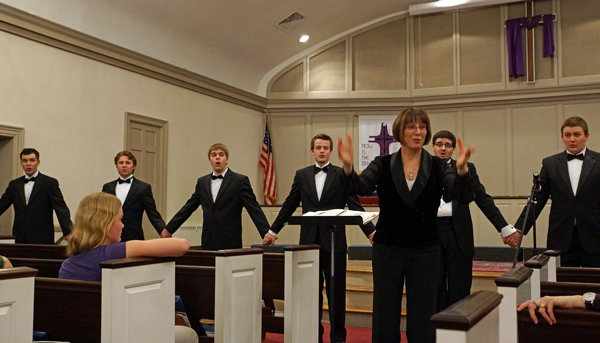 Following the concert, choir members and audience adjourned to the church's Fellowship Hall, where light refreshment accompanied spirited conversation about the event.  Choir members located their host families for the night and left for some well-deserved rest.

After breakfast with host families, the choir departed for a day of individual exploration of Philadelphia.
---
Session Retreat at Gretna Glen
In late January the Session of FPC had their annual retreat. The weather was cold and snowy, but the fellowship was warm. The incoming and outgoing members of Session met to seek God's will for our congregation in 2012 and beyond. We formed several small groups with specific focus areas. After several hours of soul searching we came up with these areas to work on in the coming year.
Expand our small group ministries in this church so that every single person within this church and those who are looking to get involved have an opportunity to do so.
Set up a work day in which the entire church can be involved in local mission.
Explore the best possible and most consistent childcare during our services.
There were many more good ideas, but these will be our main focus in the coming year.